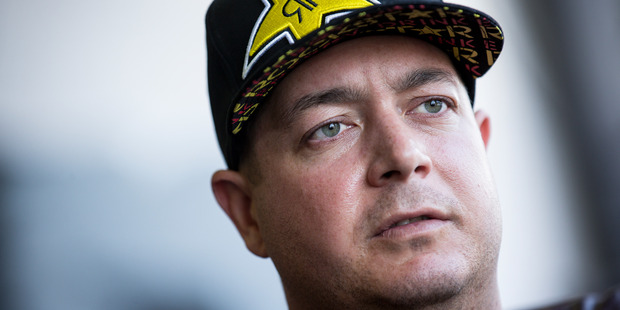 Jesse Ryder was in an induced coma for nearly three days after the assault. Photo / NZ Herald
A Christchurch pub fight involving Jesse Ryder arose when the star cricketer took offence at being accused of having "short arms and long pockets" after not buying his own round of shots, a court has been told.
Craig O'Neill, 39, and his nephew Dylan O'Neill, 22, were sentenced at Christchurch District Court today for assaulting the burly controversial cricketer outside Merivale bar Aikmans on March 28, 2013.
Craig, who threw a single punch that felled Ryder after the cricketer walked away from an initial fight, was sentenced to 250 hours of community work and ordered to pay $3000 in emotional harm reparation.
Dylan was fined $250.
The court was told the O'Neill family had earlier been out for dinner before going to Aikmans for a drink.
One of Dylan's friend had met Ryder – socialising with Wellington Firebirds teammates after a match – at the bar.
Dylan's mate shouted a round of shots, which they all drank, according to Dylan's defence counsel Adam Couchman
Ryder had been doing several shots that night, Mr Couchman said, and was "quite accomplished and quite quick".
The cricketer told carpet layer Dylan that he was a slow drinker, and that's when he and his friend walked away because they thought Ryder was becoming "arrogant", the court heard.
When Ryder came to leave the bar, Dylan accepts he "wanted wind him up" and told him that he thought he was tight for not buying a round.
They spoke to each other and it's alleged that Ryder became aggressive.
"He was really bearing down on Dylan," Mr Couchman said.
There was a "chesting or pushing" incident, said Craig O'Neill's defence counsel, Jonathan Eaton QC.
Craig got to his feet to protect his nephew and walked with him to follow Ryder outside.
"Why not let him go away? He's a grown up, he's not 5," Judge Neave asked today.
There was then an altercation at the entrance to the bar.
A female acquaintance of Ryder's tried to drag him away, but he broke free.
CCTV shows him approach the O'Neills.
During an altercation, Craig O'Neill falls over.
Ryder then swung punches at Dylan, with "at least three blows" connecting to his face, Mr Couchman said.
Craig and Ryder then tussled on the ground and that is when Dylan punched and kicked Ryder.
He claims he doesn't know if the punch connected, and believed the kick landed on Ryder's shoulder.
O'Neill family members pulled people apart.
The fight broke up and Ryder walked across the road into a McDonald's car park.
But that's when an "angry" Mr O'Neill followed him into the car park.
He then threw a single punch which felled Ryder, who struck his head on the ground, in what Judge Neave called an "unprovoked" attack.
Vomit entered Ryder's lungs and he was hospitalised in a coma for three days.
Judge Neave accepted that the consequences of the punch were "highly unusual and not something one would expect".
Craig O'Neill, who earlier pleaded guilty to an amended charge of assault with intent to injure, had suffered major personal repercussions from the incident, Mr Eaton said.
A long-term relationship had ended, while his construction business folded after he felt he "can't walk the streets of Christchurch".
He had returned to his family farm in South Canterbury and now farms sheep and cattle.
In a victim impact statement, Mr Eaton said Ryder had "moved on" and was now "literally fighting fit".
A sentence of imprisonment was not appropriate in this case, Mr Eaton said.
Mr Eaton said that when the case was properly analysed, and Ryder's "celebrity status" was taken out of the equation, was "not very complicated".
He criticised the media for "significant misreporting" of the assault, which led to his client having to retreat to a Fairlie farm, and "take cover as he became a public hate figure".
Mr Eaton stressed that the case simply amounted to "an unfortunate run of the mill assault".
Mr Couchman said Dylan O'Neill, who earlier admitted a charge of assault following the altercation, played a lesser role in the assault and should be dealt with accordingly.
Neither men had any relevant previous convictions.
The O'Neills handed themselves in to police in the days after the assault.
They were granted interim name suppression at their first court appearance to protect their identities in the interests of preserving a fair trial.
Lawyers said at the time that identification could be a key issue if the case was to proceed to a trial.
However, as they left court, Christchurch man Jordan Mason, 29, used his cellphone to film the pair.
A police officer spoke to Mason outside court, advising him of the suppression order and warned against doing anything with his footage.
But Mason ignored the advice and uploaded the footage of the two men on to YouTube.
Mason was convicted and sentenced to two months' community detention and 140 hours' community work for taking and disseminating the coverage in July 2013.
http://www.nzherald.co.nz/nz/news/article.cfm?c_id=1&objectid=11444075